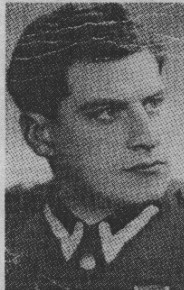 Solomon Morel

The
Daily Telegraph
reports on Poland's ongoing attempts to extradite Solomon Morel, 86, from Israel, on the charge of 'crimes against humanity.' Morel, a Pole who fled to Israel in the early 1990s, watched the murders of his mother, father and brother during the Holocaust, was held in Auschwitz as a young man and suffered the loss of more than 30 of his relatives:
In November 1945, after the Soviet occupation of Poland began, he was one of many Jews appointed by Stalin to supervise the brutal "de-Nazification" camps, where up to 80,000 ethnic Germans are believed to have died as a result of torture, starvation and typhus.
Stalin deliberately picked Jews as camp commandants in the knowledge that they would show little mercy to the inmates.
According to John Sack, the late author of An Eye for An Eye: The Untold Story of Jewish Revenge Against Germans in 1945, Morel made his desire for revenge clear from the first day the camp at Swietochlowice opened.
In a television interview before his death earlier this year, Mr Sack said: "On the first night at Swietochlowice, when the first contingent of Germans arrived, at about 10 o'clock at night he walked into one of the barracks and he said to the Germans, 'My name is Morel. I am a Jew. My mother and father, my family, I think they're all dead, and I swore that if I got out alive, I was going to get back at you Nazis. And now you're going to pay for what you did.' "
In his book, Mr Sack, himself a Jew, describes in detail the alleged atrocities committed at the camp: "The guards put the Germans into a doghouse, beating them if they didn't say `bow-wow'. They got the Germans to beat each other; to jump on each other's spines and to punch each other's noses, and hit the Germans so hard that they once knocked a German's glass eye out."
Guards also raped German women and trained dogs to bite off German men's genitals on command, he said.
So far, Israel has politely resisted extraditing Morel, and the major Jewish organizations have remained silent on the matter. One of the reasons is fairly obvious: a quick Google search shows that by now, most of the pressure to have him extradited is coming from neo-Nazis and Holocaust deniers who are eager to prove that the Jews are 'just as bad' as the Germans were and that no side has a monopoly on evil. Clearly, the PR implications of any such trial would be daunting. In addition, it is hard not to understand someone who has lost 30 members of family seeking revenge; the WJC's Elan Steinberg has
argued
Morel probably answered to the definition of 'temporary insanity.'
And yet... And yet, disregarding for a moment all the political/PR sensitivities, I believe that if there is reasonable cause to believe the accusations have some foundation (something which is not entirely clear), Solomon Morel should stand trial.
Going through unimaginable horror still does not entitle one to inflict the same horror on others, or excuse one from moral responsibility. If Morel is guilty of the things of which he has been accused, he is still morally culpable (unless he can prove -- in a court of law -- that he was, indeed, 'temporarily insane').
Even if you believe he had the right to seek revenge, the inmates who were in his camp, who were mostly German nationals living in Poland, were not necessarily Nazis or directly reponsible for Jewish deaths; there were also Polish civilians, women and teenagers in the camp as well, all innocent from his point of view.
Lastly, as Jews, if we believe that putting people in camps, beating them to death, leaving them to starve, putting them through physical torture and other inhumane behaviour is wrong, we must hold our own to the same standards, or else we lose all claim to the moral high ground. If we expect other people to extradite Nazi criminals and hold them accountable for their behaviour, we must be prepared to do the same when our own are charged with horrific crimes.