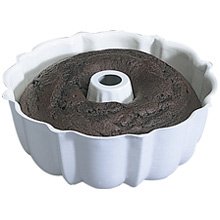 Jewish!

Here's
a weird piece of trivia: the Bundt pan was originally invented by David Dalquist, who died this week, as a fundraiser for Hadassah! It only took off, however, "in the mid-1960s when a Texas woman won second place in the Pillsbury Bake-Off for a Tunnel of Fudge Cake made in a Bundt pan."
Who knew? Who really wanted to know?
UPDATE: According to the
Hadassah press release
, that 'homey little baking pan' is responsible for no less than the Hadassah Ein Kerem hospital. I guess fundraising, in this case, really was a piece o' cake....